The Breadfruit Flan is a dense creamy custard layered with a clear caramel sauce that is a palate pleasing dessert!
Read More
Recent Recipes
When cooking the ripe plantains in an air fryer, you get the benefit of consuming your favorite side dish in a healthier version.  Furthermore, this dish will definitely satisfy your sweet tooth due to its high natural sugar content!
Read More
Subscribe for Updates
Get the latest recipes, tips, and upcoming events from Aida's Kitchen monthly by signing up below.
A Food Blog with Classic and Contemporary Authentic Puerto Rican Cuisine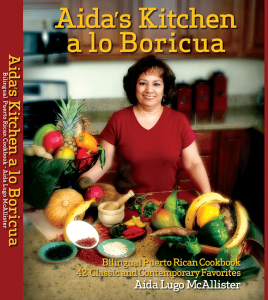 42 authentic Puerto Rican recipes
Cookbook written in English and Spanish
Each recipe contains a picture
Healthier version of Puerto Rican cookery